If you want to take a trip back in time to the era of big hair and leg warmers, an 80s theme party is a perfect way to do it! However, if you're looking to throw an epic 80s party but don't know where to start, we have got you covered! From decorations to music to food, we have all the tips you need to throw a party your guests will never forget. So get your neon clothes ready, and let's get started! Keep reading for everything you need to throw an awesome '80s theme party!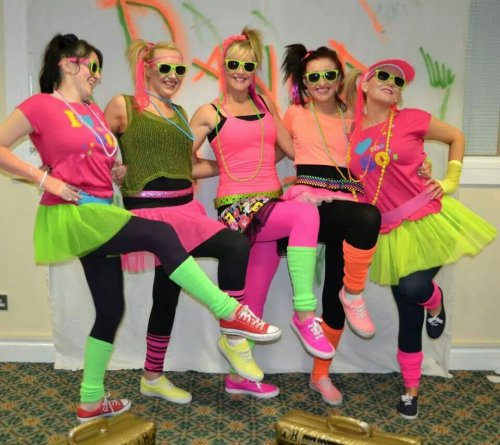 Ask everyone to wear totally tubular outfits.
To have an awesome 80s party, you should make sure your guests are dressed the part. An 80s theme party is a perfect opportunity to dress up in your favorite neon colors, legwarmers, and headbands! Have your guests come in colorful clothes and wild hairstyles that reflect the over-the-top fashion of the era. As discussed, the 1980s was a time of over-the-top styles and bright colors. Graphic shorts would help you complete your 1980s costume party look. They are shorts that are made out of graphic print fabric, and they come in a variety of bold colors, prints, and styles. Finally, provide plenty of opportunities for photo ops! Set up a photo booth to help your guests capture their awesome outfits.
Set the scene with decorations.
Throwing an '80s theme party is a great way to have some fun and relive some memories. To create the right atmosphere, decorate your party space with bright colors, neon lights, and tons of metallic streamers. You can also set out some old-school cassette tapes and records to get everyone in the mood. It might also be fun to display some iconic 80's items, like neon posters and Rubik's cubes. To compliment your decor, you could also consider hanging up some old movie posters from the 1980s. You can easily find posters online from movies like "Ferris Bueller's Day Off," "Back to the Future," "Ghostbusters," and "Caddyshack."
Serve up some classic '80s snacks.
The 1980s were a time of excess- from the clothes we wore to the food we ate. To throw an awesome 80's party, you'll want to serve up some classic '80s snacks to transport your guests back in time. There are numerous recipes that you might consider, however, you will also want to have some retro snacks as well. Some classic food from the 1980s includes treats such as pop rocks, pizza rolls, bugles chips, nacho cheese Doritos, Dr. Pepper, Coke, and Pringles. And for dessert, how about some classic '80s treats? We recommend serving up some root beer floats, Hershey bars, or Dunkaroos! A classic fare of 80s food s sure to get your guests in the mood to party like it's 1980 something.
Play some rocking 80s tunes.
The 80s were a time of great fashion, fun, and music. If you're looking to set the right mood for your 80s party, make sure to play all the classic hits from the decade. From Michael Jackson to Madonna, there are plenty of songs that will get your guests in the mood for some 80s fun. There are so many different artists and types of music from the 80s that you are sure to satisfy all of your guests' musical tastes. You could hire a DJ that specializes in music of different decades or create a playlist of your own.
When throwing an 80s-themed party, it is important to focus on the fashion, music, and overall vibe of the decade. The 1980s was one of the most unique decades in modern history, and it's fun to take a trip down memory lane with an awesome party. With some time and planning, you can put together a totally rad retro party.